At Animal Care Equipment & Services we offer 4 types of dog & cat muzzles. We offer them for any situation because we understand that a veterinarian and the typical pet owner will have different needs when using a muzzle. While a pet owner might need something more breathable and comfortable for long walks with their dog, a vet might need one to stay safe while performing dental work.
We make sure to accommodate for these situations and more, read on to learn about the different applications and benefits of the muzzles we carry.
The Baskerville Ultra Muzzle
The Baskerville Ultra's design combines optimum safety with maximum comfort for the dog. The material is robust and long-lasting, but flexible and gentle to the touch. Two additional secure connection points are included in the ergonomically designed safety strapping that keeps it in place at all times.
The bottom loop attaches to your dog's collar, and a safety strap over the head prevents your pup from escaping. The Baskerville Ultra is additionally has a sturdy metal buckle with pre-holed webbing for quick and easy installation. Thanks to the neoprene cushioning, it's tight and comfortable.
The Benefits of The Baskerville Ultra Muzzle
Dog-friendly: Unlike many other muzzles, the Baskerville ultra is a truly dog-friendly solution, which is especially important when capturing and transporting stray animals. The muzzle does not prevent the dog from drinking or eating small snacks.
Safety: Made from high-strength Thermoplastic Rubber (TPR), the Baskerville Ultra is very strong and secure and will help eliminate the risk in situations such as vet and grooming trips, riding public transportation, and dog walks in the park.
Comfortability: The capture process is extremely stressful for animals, so it is important not to increase it beyond what is absolutely necessary. Baskerville Ultra muzzle is made of materials that not only ensure long life but also provide comfort for the animal.
Customizable: While the benefits listed above can also play a key role in pet ownership, the size regulation specifically supports the work of animal control officers. Because of its adaptability, the muzzle fits a wide range of dog breeds, so there is no need to purchase the product separately for each animal. And because of its easy adjustability, the most suitable size can be individually tailored for each capture.
JAFCO Muzzles
JAFCO makes a very lightweight and extremely durable product, they are designed to allow for breathing, barking, drinking, and panting to ensure comfort and lower stress levels. They are designed to be worn for an extended period of time without becoming uncomfortable for the dog due to the design and neoprene strap.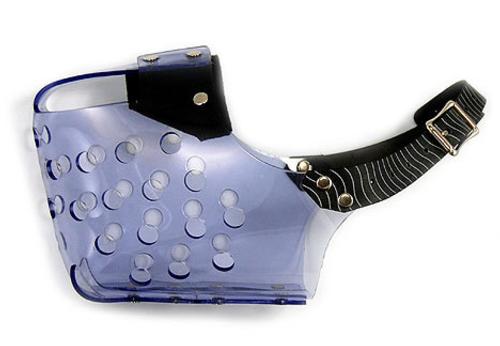 The Benefits of JAFCO Muzzles
Dog-friendly: Similar to the Baskerville ultra, JAFCO muzzles are also very dog-friendly. They do not prevent the dog from drinking, panting, barking, etc…
Safety: JAFCO muzzles provide the most safety possible when handling a dangerous dog because the breathing holes are not large enough for human fingers. This makes it impossible to get bit when a dog is wearing it properly.
Comfortability: They are designed for comfort as well as safety, in many cases, it is used instead of a cone to prevent licking because it is more comfortable for the dog.
Durability: They are made with high-strength polyethylene plastic with reinforced neoprene straps to be one of the most durable solutions on the market.
How Does A Muzzle Support Veterinary Work?
Our C-Muzzles are specifically designed for veterinarians by a veterinarian. It makes it possible to assess dental problems, administer oral medication, check gum color, perform capillary refill, and more.
Because a significant proportion of dogs develop a strong fear of the vet and may display unusual and sometimes aggressive behavior during transport and on-site. The muzzle, whether put on at home or in the veterinary practice, facilitates the work with the animal. It prevents not only biting but also many other forms of stress-related behavior. However, it does not eliminate the possibility of rewarding the animal, so with proper attention, you can create a more positive overall experience for your dog.
Check out our selection of dog-friendly muzzles here